Preparing your items:
After you have printed tags, you are ready to attach the tags to your items and prepare your items for the sale.
Tips for getting started:
If you choose, you may glue/tape your printed tags to 3x5 index cards to make the tags more durable and less likely to be torn or damaged during the sale.

(This is a g

ood idea if you printed your tags on copy paper, but might not be needed if you printed your tags on cardstock paper.)
Note:

Never place tape over the bar code portion.

This may interfere with scanning the barcode when the item sells.
Mark the tops of your hangers with a colored marker or tie the same color ribbon on the tops of each hanger so your items are easy to identify. (This makes it easier for our volunteers to quickly gather your unsold items together for you to pick up after the sale.)
Clothing sells best when hung on hangers!
Clothing does not sell well at all in ziploc bags (only exceptions are some sleepers- onesies need to be hung for sale).

Wire, or wire coated, hangers are required! Plastic hangers may break easily and do not move easily on the racks.

Please use adult sized hangers if possible! Clothing can easily slip off

smaller, child-sized wire hangers.

Wire hangers are often sold at Dollar Stores or Wal-Mart. You can also find wire hangers at local dry cleaners; just ask!
How to prepare and tag your items:

Each item should be hung with hanger hook facing left (see picture) with the tag safety pinned on the upper right corner.
Pants/shorts should be hung with the waist band safety-pinned to the top part of the hanger.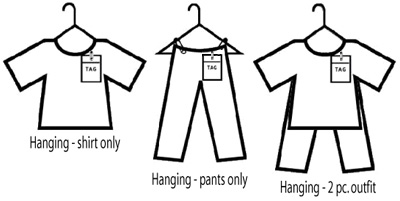 Clothing Tips:
Please only use safety pins to attach the tags to clothing, blankets, etc. This prevents tags from falling off and fingers from getting pricked. (Ideal size is 1 ½ inch – 1 3/4 inch pin. Larger ones may leave holes in clothing; smaller ones may not work)

Make sure your clothing is clean, pressed and fluffed.

Check clothes for stains, holes, "pills", etc.

Create outfits – they sell very well.

Remember, fall & winter will sell best in the Fall sale. Spring & summer items sell best in the Spring sale.
Bedding:
Original packaging for bedding is ideal. XL or XXL ziploc bags work great, too. Or, hang crib linens, comforters, quilts, bumpers, bed sheets and sleeping bags on hangers for easy display.
For items that cannot be on hangers (such as plastic toys, odd shaped toys and other non-clothes items):
We recommend Ziploc bags (or other sealable plastic bags). Large items work great with the XL bags!

Use packing tape to secure bags closed and attach the tag to the outside of the Ziploc bag (no tape over the barcode, please).
For items that cannot be in Ziploc bags (strollers, odd shaped toys, etc):
Use string, zip ties or clear packing tape to securely attach tags however possible.

For odd shaped items, consider taping the tag directly to the item. (But remember please don't cover the barcode with tape.)
Toys:
Battery-operated toys must function; check & replace batteries if needed.

Wrap puzzles in plastic wrap and use strong tape.

Little People sets look great in the XL ziploc bags. Or put pieces in ziploc bags and tape to the inside of the play set.

For odd shaped items, consider taping the tag directly to the item. (But remember not to cover the barcode with any tape!)
Shoes:
Remember, best shoes only!

Zip tie shoes together and tape the tag on the inside sole of the shoe.
Multiple-piece items (bedding, toys, accessories):
Should be packaged in a way that reduces risk of separation.

Don't tag multiple times if all items are sold as a set. Instead, create one tag and make sure the various items are securely attached together.
Media (books, VHS, DVDs, music):
Use painter's tape or scotch tape when attaching tags to books or VHS tape covers. Don't use packing tape, as it will tear the cover when the tag is removed.

Wait to seal DVD, CD, cassette tape and VHS tape containers. Bring these to check-in unsealed so they can be verified. Bring some tape to seal these after check-in approval.